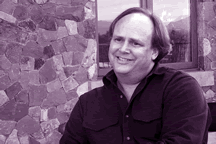 The road to Atalon. It sounds like the beginning of a novel, but it is actually just a short trip up Highway 29 in Napa. When you make it to the top of the winery's hill, the view is incredible. We arrived as the sun was beginning to yield to clouds and although it is December, it was 70 degrees outside, so we decided to take in the beautiful outdoors during the interview.

Tom Peffer, the Atalon winemaker, met us at the door. He was dressed in a nice button down and khakis (we warned him there would be photos) and led us through to the patio.

We sat down, turned on the recorder and he wanted to know about us! Hey, wait a minute... aren't we supposed to be the ones asking questions? We exchanged information about our company, and he offered gobs of information on the technical side of winemaking. When we started to come to a lull, I decided that it was our turn to learn about him. I asked "How did you get into winemaking?" and Tom's story began.

Tom began his Atalon career in 1997 after 12 years at Beringer. As Tom became more comfortable, he unmasked his charming dry wit and unveiled a fascinating past. Before making it to the big time, Tom was a home winemaker for 5 years where he grew up in Fresno, California, "I used to make wine and take it to parties. Other people used to "grow" things and take that to parties, but that was too dangerous for me. I chose a legal vice, so I would make wine from Concord (store) grapes and my inspiration was to share it with friends. After two to three years, I got to the point where you could drink it. You would just have to drink the first glass really fast and the rest would be OK."

Tom's wine certainly has graduated from chugging to relishing. He has come a long way from his early twenties at Fresno State. In college, he got his degree in chemistry and his masters in agricultural chemistry, specializing in winemaking. Many times, winemakers get into the field because their family taught them an early appreciation of wine. In Tom's case, it is the opposite. He just knew he belonged in the business and he ended up teaching his family an appreciation of wine, "Now they drink a little... They would drink the white Zin. (He smiled) My brother drinks reds now and my mom moved to Chardon nay." Looks like he is making progress and honestly, how could they say no to his Atalon Cabernets and Merlots.

We tried all of them and they are all distinct with a thread of style similarity that can be summed up as richness. Tom is very specific about his style of winemaking, "I like wines that are very opulent and dense in flavors, lush." As far as varietals he chooses to drink, he recalls his tastes in wines taking a full circle path, "my favorite wine when I first started was Cabernet with a filet, then I moved to Gewurztraminer, Riesling... Cold Duck (another smile) and to Chardonnay. Now I like a number of varietals, but mainly Cab."

After 29 years, of winemaking, Tom has decided to dedicate more of his time to his family - his wife and two daughters (13 and 10) named Sara and Laura. He admits that before he was married, his wife didn't like him very much because of an offhand comment he made to her in front of her friends at a party. Something about her weight. Ouch! Tom contends, she just didn't get his humor.

However, now that that is in the past, they are a happy family and Tom has some time to concentrate on playing guitar with his "Jam Band". They call themselves a jam band because they have no official name, no CD, and they don't even know any songs, they just get together and jam. That's not all in his bag of talents. Tom added, almost as an aside, that he used to be a national forest fire firefighter while in his teens and early twenties (for a little extra cash in college). Now, adds Tom, when he watches the news as the fires scorch the nation, he knows what those men and women are going through.

As full of surprises as Tom Peffer is, his Merlot also gave us a pleasant shock. Having tasted it twice, I think we forgot how great it was. The Merlot felt very big, juicy, dark and round and I thought for sure it was blended with at least 20% cab. Guess again. It is 96% Merlot and only 4% Cabernet. Critic Robert Parker calls it "sexy" and gives it a whopping 91 points. I think Tom achieved his signature "opulence".

After tasting through the rest of his wines, we thanked Tom and got up to leave. He walked us to our car and when we were pulling away, I thought for sure Tom would say, "Uhhh... you're not going to put that part in there about my wife are you?" But, instead he just waved and said, "goodbye." I'm pretty sure he was thinking it though...