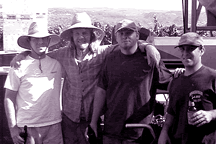 In many ways, the Buoncristiani story is not unusual - at least here in Napa. It is an amazing story of how the passion for winemaking, almost as certain as genetic code, is passed down from generation to generation and across continents. It is a story of four brothers, a small town in Italy, and a great, great grandfather named Nonno Angelo.

Derek and I were enjoying a burger at a popular local Napa joint. As is common at Napa restaurants, we brought our own wine to help wash down the tasty meal. While sitting at the bar, I couldn't help notice this young, red-headed guy staring at our wine bottle out of the corner of his eye. Finally, he bluntly asked which wine it was and what we thought about it. Turns out he was Jay Buoncristiani, the 28 year-old winemaker for the esteemed Hess Collection Winery. It is also typical that Derek and I rarely go out for a meal without meeting someone and talking for hours. This night was no exception. Over some fries, we all talked about wine, the world, and his family, until the place was about to close.

Jay is a walking chemistry book with a great sense of humor and a solid sense of family. He was in jeans, a T-shirt and had "hat head" from a long day at work. Not unlike many native Californians that we have met here in the valley, Jay casually exudes business-sense and drive while simultaneously speaking with the laid back lingo of a California surfer. He told us of his great, great grandfather, Angelo Buoncristiani, who made Italian wine in his small town of Orentano, located in Italy's Toscana region. His son, Yaccipo, took half of the family and immigrated to America, settling in San Francisco. There, applying the craft he learned from his father, he made wine in his basement. Eventually, the family became wholesale wine distributors and between 1940 and 1965 they were sole distributors for Beaulieu Vineyard. In 1972, Roberto Buoncristiani, with his four sons in tow, began making wine, eventually buying property in Napa.

It is common for the children of winemakers to seek careers outside of the wine business. But they all seem to come back. As Mama Buoncristiani says, "we grew up on wine instead of milk". The boys grew up watching and learning the techniques from their father. Wine had always been an integral part of the background of everyday family life and as such, went unnoticed as a potential career. Each brother, therefore, followed a different career path before wine called them all back home. Jay majored in Science and was planning on becoming a doctor. He delayed Medical school for a semester in order to take a trip to Australia, to see more of the world before experiencing the grind of Med School. Being in the outback rekindled his passion for wine. He wanted to be a winemaker. With his science background and his renewed passion for wine, Jay soon became the enologist at Hess Collection Winery. In 2002, at the age of 27, he was promoted to Winemaker. At the same time, he started two companies with his brothers - a vineyard management company and the Buoncristiani label.

After the first year, Mama Mimi Buoncristiani, had had it with wine and stepped in to regained control of her garage. She kicked her sons out and could once again park her car in the garage where it was supposed to be. The boys now rent space in a winery on Silverado Trail in Napa. They are currently in their second year and make a very small amount – 290 cases of the 2000 OPC – a Bordeaux blend (71% Merlot, 12% Cabernet Sauvignon, 9% Syrah, and 8% Malbec) named in honor of great, great grandfather, Nonno Angelo (aka the "Old Pa" in Old Pa's Claret).

We had one final question for Jay, about the name "Buoncristiani". He told us that he and his brothers visited the family in Orentano, Italy. One day, they were taken to see the local graveyard, and there they stood amongst hundreds of headstones. Everyone that had lain to rest here was either a Cristiani or a Buoncristiani. It was an amazing experience for the brothers. So much tradition. So much time. It turns out that during the Crusades the Cristianis of the village that returned from battle were renamed "Buoncristiani" - which literally means "Good Christians".

Jay's attention to detail and vision with the ability to pull it off technically and artistically are reflected in the wines he makes. They are meticulously well done. I think Old Pa would be proud. The brothers certainly live up to the family winemaking tradition. Now, as far as living up to the family name "Good Christians", Jay laughed and sheepishly answered, "we try."