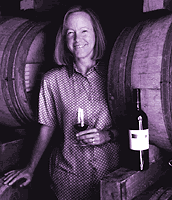 It is late and Cathy Corison has put her daughters to bed before walking back to the winery she built from a dream on her property in the Rutherford bench of Napa Valley. You would probably see the light on on any given night if you drove past Corison winery (an unassuming, charming gray barn right off Highway 29) as Cathy has mastered the art of working odd hours.

Now it is Harvest 2003, and this is the most challenging time of the year for Cathy. She needs to walk the perfect balance of her life as a winemaker, mother, business owner and wife. She also needs to leave time for her non-wine passions, hiking and theater. For Cathy, however, being a winery owner, working right alongside her husband who works with her to run the business, is actually quite a perfect place to be, "the work doesn't go away, but it can be done at any time." This built-in flexibility is key for her and she feels lucky.

She also feels lucky that she never had to flounder to find her life's passion. It came to her after taking a class in wine appreciation on a whim in her sophomore year at Pomona College in Claremont. It was love at first taste, "I really never looked back. Days after I graduated from college I made a Beeline to Napa Valley and I have lived her ever since [since 1975]... I am almost a native."

Some could argue that the spark for wine may have started even earlier when her father would allow all children over the age of 14 one glass of Gallo hearty burgundy at Thanksgiving and one glass at Christmas. In any case, there is no question that wine is Cathy's passion and the thing that she does well with a very singular focus.

Cathy Corison knows exactly what she wants from a wine and not from just any varietal, but from the king of red grapes, Cabernet Sauvignon. Her laser-beam-like vision in winemaking has made her one of the best consistent winemakers through great and not-so-great vintages, and that is her claim to fame. You know exactly what you are going to get when you buy a Corison Cabernet and it can best be described by Cathy herself, "...walks the line between power and elegance". The essence of Cathy's wine is an ideal balance of power and elegance. In that way, her wines could never have been any different because they are an expression of Cathy herself. She knows, and always has known, how she wants her wines to be.

So, what is different from the 70s when she started? "Now I am a better winemaker, but my style has not changed." Cathy made wines starting in 1978 with Freemark Abbey and spent a decade (the 1980s) as head of winemaking at Chappellet on Pritchard Hill. "My timing was good, I was running a winery within a year of getting out of Davis which was crazy, but it was good for me. Some kids went to winemaking jobs right out of school... because of that I've got a lot of vintages under my belt."

Experience, in Cathy's estimation, taught her better winemaking skills, but an artistic, intuitive sense for wine provides her with her unwavering signature style – one that, in part, comes from her appreciation of many "old world" wines.

Her old world influences are Saint Julien in Bordeaux, France and Tuscan Chianti Riserva, "This may sound contradictory but my two models for the way wines are built are the wines of Saint Julien which have that wonderful balance of elegance and power in the same glass. I also love the wines of Tuscany, especially the Riservas... when you can find a good Chianti Riserva from a good vintage... wine doesn't get much better. They [the Tuscan winemakers] get it."

For Cathy the winemaker, it is very important to be in tune with wines created by winemakers from all over the world. In order to maintain a beat on the world of wines, Cathy and her family travel abroad to various winemaking regions. At home, they do a little "virtual touring" as well, with their ritualistic "blind tasting". Her husband helps her keep her palate in tip top shape by choosing a wine every single night that they have the opportunity to sit down together for dinner, and brings it to her in a brown paper bag. Cathy has to guess varietal, winemaking region, and even vintage. They have been doing this ever since they got married.

Helios is a special wine that Cathy is very proud to present. She chose the name because of its connection to ancient symbols of life. Helios is the sun god in Greek mythology and as you may know it takes a lot of love, care and sun to make great Cabernet. Helios is also special to Cathy because of its connection to life sciences. As a "card-carrying" biologist, Cathy appreciates wine as a celebration of life every vintage - life that fits in a glass and reminds us why we love wine in the first place. It is the tie-in of life, celebration, power, elegance, balance and the embodiment of the earth.

"Biology is the study of life and wine is a life – my avocation and vocation all in one place."