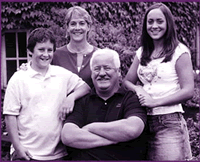 Derek and I met Ray Coursen of Elyse winery at 2:30pm on a sweltering, record-high 106 degree Friday. The dry heat was so intense that even the winery's canine greeters, Otis and Bubba, wouldn't move out of the shade to say "hello".

As you can imagine, I could only consider drinking ice water or a very chilled dry Rosé. I was in luck. After all, Rosé was the reason we ventured to Elyse that day and Rosé is exactly what Ray had in mind when we arrived.

This off-the-beaten-path tasting room is hidden down Hoffman Road off Solano which is parallel to Highway 29 in Napa. The tasting room at this small, family-owned winery is a quaint little area transformed from an old horse barn just 15 years earlier.

Ray is a warm and friendly soul who is ready with a glass of wine and a joke. His humor came early, "Don't be embarrassed to let your friends know you drink rosé" he remarked as he handed us each a cool glass of Jakob Franklin Rosé (the wine label named for his son).

I followed him to a stack of Elyse cases of wine and sat down smack dab in front of a big fan. My hair was blowing like I was doing a Sears summer catalog photo shoot and it got a little loud, but I sure didn't mind cooling off.

Ray was sipping and reminiscing about the days when he said, "we were all hippies" and dry Rosé was all the rage. Of course, in southern France it still is and hasn't lost its popularity as an afternoon quaffer. Ray, an East Coaster originally, who grew up in New Jersey and got his degree from University of Massachusetts in agriculture (specializing in stone fruits, i.e. apples, peaches) cut his teeth on quaffing a lot of French and European wine and so he still is a big fan of European Rosé.

Only, his public appreciation of the wine had to be quelled a bit after the birth of White Zinfandel.

Ray's theory is that because the winemakers who make White Zinfandel decided to produce it as a sweet wine, Rosé started to get a bad name simply because of the color similarities. All of a sudden Americans stopped drinking it because they were too embarrassed to be seen drinking it, for they would have to explain in a panic, "It's not White Zin!". Although Ray laughs it off now and enjoys whatever wine he wants in public and does not begrudge the world its White Zin, there is still something about Rosé in America that is forever altered – but shouldn't be.

Ray's winery, Elyse, is named after his daughter - a beautiful 17 year-old who is getting ready to go off to college. She will probably be the only one with her own personal wine. We tried her label, the Elyse Rosé next.

The Elyse Rosé, Ray explained, "was made from the bleed-off juice of the 2000 d'Aventure [which our members tried in February]. Everything we do in Rosé is to enhance other wines." This means that Ray removes this extra extracted juice from the grapes about 15 minutes after they are destemmed in order to gain intensity in the red as the leftover juice and skins sit together. The result is Rosé. The difference between Elyse Rosé and White Zinfandel (besides the grapes used) is that a dry Rosé has all the sugars fermented out while a White Zinfandel has residual sugar.

We sipped the Elyse and had a moment of silence (except for the fan). It is a beautiful wine, surprisingly complex and spicy, yet quite refreshing and delicious. Ray broke the silence. "Slow, cool, and gentle. That's my motto and that's the way I make my wines."

He destems the grapes slowly by hand instead of putting the grapes through a crusher. He handles them gently by using gravity rather than a pump to move the fruit from one place to another. He also keeps the grapes cool and allows for a long 5 day fermentation in order to extract the most in flavor and complexity. He says. "75% of the berries are in the skins during fermentation". This is an incredible feat and it pays off for Ray's wines.

Our tour ended with some blending and barrel tasting of some Pinot Noirs that Ray is making. Then he wanted us to try his Meritage-style (ala Cheval Blanc) wine called "Mon Chou", which his wife says sounds like a Chinese Menu item. Ray, a funny guy by nature went with that theme and gave it a "Chinese menu item number" as well. It's called "#52 Mon Chou". The "52" is actually the amount of Cabernet Franc in the blend. We took a sip. I looked at Derek, Derek looked at Ray, Ray looked at me... and we gave one of those slow, knowing nods in unison – it was awesome. Ray thinks that he will release the 2001 Mon Chou for around $90 a bottle.

Ray laughed and said that was what winemaking is to him, "It's about getting absolutely 'stoned' by something. Something that floors you, like a great meal, a classic piece of art, or a great glass of wine. It has nothing to do with the buzz. It's not about the alcohol, but a mind-blowing experience."

Cheers to that. Let's get stoned.