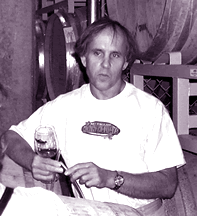 Think Berkeley in the 1960s. That was Peter Franus then. Now he is an independently successful winemaker who owns his own wine company and is highly regarded in the industry....but there's still a little bit o' Berkeley in his soul and a lot of soul in his wine.

Peter Franus left a conservative home in Greenwich, Connecticut and arrived at the famous campus where he got a degree in journalism and a passion for the California lifestyle that would keep him firmly planted here ever since.

In 1978 he studied enology and his winemaking journey began. He started at Chalone, moved to William Hill, then to Chateau St. Jean before beginning an 11-year stint at Franciscan Oakville Estates, Mount Veeder Winery. He left them when they considered it a conflict for Peter to have his own personal label. Peter knew it was time to say goodbye to the corporate wine giant, and hello to his entrepreneurial spirit.

At 11am, Peter came walking through the door at Laird Family Estates (a winery and co-op custom crush facility where he makes his wine) with tussled hair and three bottles under his arm wearing shorts and a T-Shirt. Instantly unassuming, warm and friendly, we greeted each other and sat down to check out the goods. Before I asked the first question or took the first sniff, Peter proclaimed himself a "Big Nosey-Body" and asked me several questions about myself -- he even guessed my East coast origin based on my accent (I never thought I had an accent...).

When we started talking and pouring wine, Derek asked if he could take some pictures, to which Peter replied, "If I had known you were going to take pictures, I would've worn my Grateful Dead T-Shirt!" He wasn't joking.

We began our tasting with the '00 Sauvignon Blanc, Farella-Park vineyard (they used to sell their grapes to Duckhorn). A bordeaux-style Sauvignon Blanc, it was lusciously rounded with tropical fruit and citrus.

Once we got on to wine, one of his favorite subjects, he revealed a humorous and insightful side that is a tribute to his style and persona. The most important part of the Peter Franus philosophy is the "D-Factor" and that doesn't mean D-O-L-L-A-R-S (like some wineries which will remain nameless)! He wants you to have the word "Delicious' in your mind when you drink his wines.

He prides himself on being an intuitive winemaker. It is important to him to choose and challenge the vines to achieve the grape's own unique personality. Admittedly, Peter acknowledged that it is a hard line for him to walk, "...sometimes you hit and sometimes you miss -- but it is never boring."

The '98 Cabernet Sauvignon, Napa Valley was next. 100% Cabernet fruit is from the Rancho Chimiles and Hyde vineyards. The Rancho Chimiles gives the wine its stiff backbone, juiciness and tannins while the Hyde offers the acid and violet floral nose. Deep with rich fruit. Delicious. The "D" Factor. He made me say it.

In the cellar, we tasted four Zinfandels -- all were amazing. He does have the Midas Touch. The '01 Mead is my favorite, but you honestly can't go wrong with his wines.

Before we left, he stressed that wine needs to be just plain old fun, "I will never price my wine at $100. The whole idea is to get the wine into people's hands to drink it and to have it be accessible. Wine is not a trophy." This is his Berkeley training coming forth, but he is absolutely right. A wine doesn't have to be expensive to be incredible. This one is $32.95 and has a 90 point rating from Robert Parker! Furthermore, Peter never once talked about this or any other rating or review. He says, quite simply, the only critic he cares about is YOU.

We said our goodbyes and as he walked away, I heard him humming a tune that sounded vaguely like "Uncle John's Band".