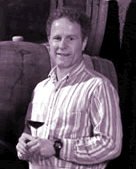 It seems fitting that Gregory Graham grew up with grapes. He was born to be a winemaker. Although his family may not have known it at the time, Gregory's experience helping in the family-owned vineyards in a suburb of Cleveland, Ohio to grow the grapes that were under contract to be sold to Welch's for grape jelly would have a very lasting influence on him.

Today, Gregory can proudly say he is the winemaker for such esteemed wineries as Rombauer and Frank Family. Yes, Gregory Graham is the man behind these famous wines - although he prefers to put the vines before the man.

Gregory decided in 1974 after coming out of the service that it was time to go to college. He attended Cleveland State University where he earned a degree in mechanical engineering. While in college, he began making wine from concord grapes and then his source evolved to local growers, but, "Ohio's growing season just isn't long enough to grow European varieties" and his sights were set on California.

Once there, he enrolled himself at UC Davis where he got his degree in enology in 1983. Gregory was ready to hit the big time and moved to Napa.

His first job right out of Davis, was an assistant winemaker position at Rombauer. In 1985, he took an enology position at Robert Mondavi before being asked to come back to Rombauer in 1988. He has been Rombauer's head winemaker ever since, revolutionizing the wines coming out of this winery and helping to build the wines to an almost cult-like status. He is also a part of the winemaking team for Frank Family vineyards. Frank Family is owned by Rombauer's business partner, ex- Disney Executive, Richard Frank.

Gregory attains great wines because of purity. He loves what he does. Pure and simple. He grows the wines in the vineyard from baby buds to full grown grapes. He is a part of their lives until they make it into the bottle and that is what he loves about it, " I just interviewed guys at Frank Family and one of the questions I asked was 'what is your favorite part about being a winemaker' and that made me think and ask myself the same question. I think it is because each year we get to do it again - make something from nature and do it with creativity."

A die-hard Rhone fan, Gregory Graham struts his stuff when it comes to Syrah. However, he admits that there is no wine he absolutely has to make every year. That part is dictated by the fruit. Although you will most likely find him making Rhone varietals in Rhone style. This is what we found to be incredible about his 2000 Napa Valley Syrah. We tasted it at an annual tasting in San Francisco called "Rhone Rangers" and it was the best Syrah in the room --out of 200 wineries. It is fruit driven in the classic blueberry, black raspberry zone with a little hot white pepper spice.

The other wines Gregory makes under his own label are two appellation-designated Viogniers (another Rhone varietal); one from Napa Valley and one from Knights Valley. He also makes a Pinot Noir and a Zinfandel.

Rhone wines speak to his tastes in winemaking for the Gregory Graham label -- elegant, straightforward and pure. It is not surprising that this could also be a descriptor of Gregory Graham himself. Nor is it surprising that for his honeymoon, he chose the Rhone destination, Provence.

In his free time, and he says "there is very little of it", he likes to mountain bike and hike. Perhaps that is why I was so very surprised when he told me he was a grandfather already. He is a young looking man who actually has three children of his own and now two grandchildren. It must be the wine and the hiking. Maybe Gregory has uncorked the secret of the fountain of youth. He should be bottling and selling that.

As for passing on his legacy, so far none of his children have taken an active interest in winemaking like their father. He holds out hope (with a smile) that "maybe one of the grandchildren will."

It will be awhile before we find out if that wish will come true, but for now he urges people to enjoy his Syrah (and all his other wines) knowing his philosophy, " I don't spare any expense. I make everything at the highest quality level from the grapes to the cork."

As for pairing with food, Gregory admits he isn't much of a cook, but wouldn't want you to pass up the opportunity to try his wine with pork tenderloins rubbed with ...you guessed it, Herbs de Provence!