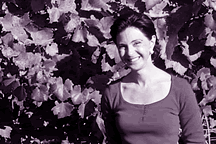 Honig means "honey", and the name fits. Elaine Honig has a natural ease about her. She is smart and as straight-forward and down to earth as the substance itself. I had a sense as she walked in the room that I would really like this woman... and I was right.

The Honig property is in Rutherford. As a matter of fact, it used to be a part of the Caymus estate, dating back to the turn of the century. It was bought in the 60s by Louis Honig, the family's grandfather. He planted grapes in hopes of retiring to the life of a farmer, making some wine and enjoying his land.

Unfortunately, he died before his dream was realized. The family decided to make a little bit of wine in his honor instead of selling the grapes to other valley winemakers. They made 500 cases of Sauvignon Blanc their first year. They also won a Gold Medal at their first competition and were inspired to make more. Louis must have been smiling from above.

The year was 1984 when grandson, Michael Honig graduated from college. The family winery was making wine, but it really needed someone to run the winery as a business and sell the wine. Michael, at 22 years old, took on the task, driving the wine from restaurant to restaurant, store to store, in the back of his Subaru, while handling all his accounting from written invoices stuffed inside a shoe box.

It was around this time that Elaine met Michael at a Thanksgiving dinner in 1986. Once she and Michael began to date seriously, he asked her to come on board. "The first thing I did was hire a delivery company!", says Elaine. She gave the Subaru a break and the winery quickly grew from 500 to approximately 40,000 cases -- almost all Sauvignon Blanc and Reserve Sauvignon Blanc.

Elaine recounted the slow evolution from tractor barn to Honig winery. "Michael and I got it up and rolling. The family didn't pay attention for 5 to 10 years and then one day looked up and said, 'Holy cow! You haven't asked us for money, so that is a good sign, and now you are starting to make money, and there is a building where the tractor used to be. This is cool!' It didn't mean they wanted to get involved but we started getting some good feedback." She laughed out loud at the memory and paused. Although she and Michael are now separated, they both still work together, continuing to make Honig a success with Michael's brother Steven Honig and his wife, Regina Weinstein.

Honig is an organic farming winery. They do not put it on the label, but you can be guaranteed that the wine you drink from them was never sprayed with chemicals. "Not using chemcials requires you to be very proactive, but it wasn't hard and it wasn't expensive. We do it entirely just because we feel like we should. It is right for the land and why do it the other way?"

For Elaine, the fun part is doing all of this with an authentic fervor for life and nature and showing people that wine is fun not intimidating. Who else decides to sell Sauvignon Blanc through a postcard with staffmembers dressed as mermaids!

Elaine has many interests --from "dog yenta" (finding 15 dogs homes this year alone) to winery owner and creative director, to political activist and friend to her staff. And yet they are all unified for her under one motto: "Live life authetically. Be good to other people. Be good to yourself. Don't be a part of the problem, be a part of the solution." From what I can tell, she seems to do just that.