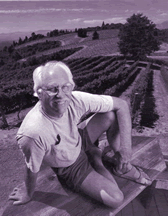 "Serendipity" is a word that accurately describes this husband and wife team's life experience. Stan and Julie Simpson's adventures always seemed to take just the right turn at just the right moment. Meeting the right people and making the right decisions eventually lead the Simpsons to a place and a way of life that makes them extremely happy. A life that is situated in the mountains north of Santa Rosa, 17 miles from the Pacific Ocean, on a road called McCray.

The name of their winery is McCray Ridge, named after the place that grows the fruit that that goes into their single vineyard wine. To them, this is all important – keeping it simple and down to Earth.

Flash back to 1973. Nixon was in office, and Americans were starting to rediscover that California wines could be quite delicious. In fact, the International wine scene was beginning to take note as well. Meanwhile, in Southern California, a shop teacher and cabinet shop owner/maker and his wife, an English teacher, were happily living out their ordinary, pleasant life, with no complaints. Life was good.

Then one day, Stan was invited, by one of his academic colleagues, to a wine tasting class at a nearby college. This day marked the end of his his ordinary, pleasant life, and the beginning of a brand new journey. The fascinating world of wine and winemaking, with all of its romantic and creative nuances, immediately seduced him. A new adventure was kindling inside of him and thought to himself "down the road, this could be a real possibility for me." And why not? When you think about it, there are strikingly similar processes involved with working with wood and making wine. Stan is a man who loves creating art from Earth's raw materials. He loves to see the materials come alive in new and captivating ways. As an artistic person, Stan knew he found a new profession in his newly discovered passion for wine.

As his luck would have it, Stan decided to visit a friend in Sebastapol, California, near Sonoma. While on his trip, he just happened to run into a fellow wood worker who tipped him off about a property for sale on McCray Ridge. Stan and his friend drove up to see this place – and he fell in love at first glance. 40 acres sitting on top of the world. The view of North Bay in the distance was breathtaking. And there was a beautiful four-acre patch of vineyard. And although the vines had been neglected, left to grow on there own, and although no one could tell him which varietals were actually planted, Stan began to picture the possibilities.

After discussions with Julie, the couple decided to buy the McCray Ridge property, by pulling together a down payment from Stan's 401k, for what was to become the current 1,100 case per year winery.

Still living in Southern California, the Simpson's new property was more of a dream get away haven, but as time went on, it became more of a "let's stay" place. Stan was continuously pulled between his successful cabinetry business, where he was designing special woodworks for homes in Laguna Hills, and pursuing his new dream as a winegrower and winemaker. He realized it was too difficult "trying to be a grape grower from 500 miles away" so he sold his business and moved with Julie to McCray Ridge – his new home.

After moving, Stan decided to take some viticulture classes at Santa Rosa College where he met professor Rich Thomas. From Rich, he learned the trellising techniques for the vines that he still uses today (to earn his 93 points from wine Enthusiast for his 1999 Merlot).

His first vintage in 1996 was good, but not good enough for Stan, so he sold his grapes to Kendall Jackson. The following year, in 1997, the grapes were lush and tasty, and he decided to make his first wine under his label – Stan and Julie haven't looked back since.

In fact, in a way, they have gone full circle. Because they became friendly with professor Rich Thomas, students Stan and Julie are now teaching at Santa Rosa College. Now, instead of teaching wood shop and English, it is Winery Practices 101.

Stan insists he hasn't given up on the art of wood working. In rare moments of downtime, the neighbors might hear the whine of a table saw or the hum from a sanding belt. He invites anyone who takes the wonderful trip to McCray Road to stop in for a visit. He would be more than happy to show you his latest wood creation as well as his latest wine.