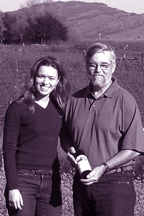 Sometimes when you meet someone you feel like they are in complete harmony with themselves and their surroundings. Their life's work is as much a part of them as their legs and arms. Bob Mueller is one of those people.

He was born with vines in his veins. A native Napan whose ancestors hark back to the early settlers of the 1800s, Bob has seen Napa go from a small farm town with open fields full of cattle, walnut trees and prunes, to the wine and tourist mecca it is today, "I was born into it.

My family had vineyards when I was a youngster, and I had to work in the vineyards. This was all before it was profitable or exciting."

Maybe vineyards weren't exciting to the rest of the world in the way they are today, attracting thousands and thousands of tourists each year, but they were exciting to Bob.

In fact, he tried to leave the vineyards behind by going to school at UC Davis because, "When you have to work for your family, sometimes it is not that much fun". But the vines called him back. He returned to Napa with the intention of working for one of the newest bonded wineries, Robert Mondavi. "I worked my way through the cellar to the enology end of it. There I tasted wines made from all different areas and Carneros was always a high quality area. As time progressed, I missed the vineyard aspects of winemaking and decided to get back into the vineyard."

Eventually, Bob truly became an expert in many aspects of wine growing and winemaking. He was also one step ahead of many who dream of having their own winery because he had his own land. Bob took a big leap into entrepreneurialship by giving up his steady job with Mondavi to start his own winery in Carneros, the land whose fruit he had admired so much in his experience with Mondavi. Bob explains, "I always kept the idea of having my own label in the back of my mind as I saw other wineries developing. As I tasted other peoples wines, I felt confident that I could make my own wines, not as a lark, but as something I enjoy doing . Plus I wanted to be my own boss."

1990 was the first vintage for McKenzie-Mueller and they debuted with a Cabernet Franc, a Merlot and a Pinot Noir. Bob remembers 1990 as having been a very good year and he prides himself on always progressing in style, winemaking techniques and wine growing techniques.

Bob jokes that people think McKenzie is an investor, but it is his wife's maiden name. They wanted a name that would distinguish them from the Mueller label from the Russian River Valley. Now, looking back, they breathe a sigh of relief that they never seriously considered some of the names they were tossing around, like "Caberlot". Thank goodness for decisions that are made after a night of sound sleep.

After talking to Bob about wine, I thought surely he had to have other interests outside of wine and so I posed the question and Bob answered, "Oh yes, Outside of wine, I like the outdoors and anything to do with the vines or the vineyard." And that sums up Bob. He is a man of the vines. A man of wine and that is why he does it so well. It is the way he makes his living and a way of life. He is one with nature and himself and that, to me, is a special rarity.

Finally, it was time for a little tasting and touring. Erin Mueller, Bob's daughter and Vice President of Production, joined our tour of the winery along with canine siblings, Joe and Pepper. We talked on a picnic bench by the winery about working with family, living in wine country and the style of McKenzie-Mueller wine and between every other sentence, I was obligated to pet Joe on the head or find a muddy paw in my lap.

In response to my question about how do they want people to perceive their style of winemaking, Bob and Erin were insistent that you should define this Cabernet for yourself, but did offer this description: "forceful, and at the same time soft. Strong, but not overpowering. Rich, round, full, not tart or acidic, balanced, some vanillin from oak, fresh fruit. I want a wine that builds on each taste to invite you back for another taste. I want the wine to remain a pleasure to taste, from the beginning to the end, developing over the course of enjoying the bottle. I also want our wines to be able to age -- great now, but better tomorrow."

Bob, Erin, Derek and I finished our wine, which I can attest to being great at the start and the end. We paused and commented on the beautiful evening as the sun sunk closer to the horizon, dotted with their vines. We are proud to bring you this labor of love straight from the Mueller family winery to your home.