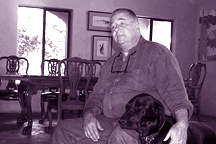 A big, round, smiling man surrounded by 3 black labs greeted us at the door to his winery with a hand-engulfing shake. He was Dick Steltzner. He reminded me a lot of my late grandfather, who had closely cropped hair, weathered skin and thick hands. And like my grandfather he had many stories to tell - beginning with wine, of course, and running the gamut from peach pit oil to "nostril dominance".

What brought us to Steltzner was his Pinotage. Derek and I were cruising the valley last month in search of new and exciting wines and decided to sample Steltzner's wines - we were plenty surprised and intrigued with the Pinotage. What a unique grape. We wanted to know the story behind the grape and the man who chose to grow it.

Dick Steltzner has an interesting history. Unlike the doctors, engineers and lawyers who made their fortunes elsewhere and then romantically gave it all up to use their large fortunes to make small ones in the wine business, Dick never meant to make wine. He also had no money.

He was renting a 5,000 square foot place in St. Helena --the "low rent" district in the 60's -- for $80 a month. Here he was pursuing glass and pottery, but didn't feel like he "fit in" enough to dedicate himself to the San Francisco art scene. So, he chose another path. Agriculture. But what to grow. He decided prunes were boring, walnuts weren't worth enough, and kiwis were on the down swing. He chose to grow grapes. He bought some land in the now very famous, Stag's Leap District and watched--almost in amazement -- as Napa became the premiere wine growing region in the US -- exclusive, famous, and expensive. Dick was sitting on a fortune. Lucky Dick.

After working as a vineyard manager for many wineries, he made his first few barrels at Markham in 1977 and never stopped. It wasn't until the mid-80's that he tore down the old prune drying barn on his Stag's Leap property to build a tasting room. He moved his tasting room into his caves after they were built in the 90's.

The beautiful "VIP" area of his extensive cave is where we did our tasting of his Pinotage, Sangiovese and Claret. He began the tasting by saying, "I'm terrible about people tasting my wine. You are going to find out why." As we took our first sniff of the Pinotage, Dick quickly pushed himself back on his stool and said "That's NOT how you sniff!" And that was the beginning of a two and a half hour course that could be entitled "Everything You Didn't Know You Didn't Know About Wine". Dick soon informed us that we were supposed to place the edge of the glass right under the dominant nostril, sealing it off completely, and then inhale. Derek and I discovered that we are both "right nostril dominant".

While tasting the Pinotage with some fine cheeses, Dick explained why he makes this varietal in California, "No one is as crazy as I am." I asked him to probe a bit further. "I love food and love experimenting with all kinds of food. It's the same with wine." Dick tasted several from its famed origin, South Africa, and thought that it would grow well and make a great offering in California. I wholeheartedly agree with him. I think it is a wonderful wine with a mixed past as interesting as Dick's.

Pinotage is a wine that was custom made for South Africa in a way. The South Africans were looking for a wine varietal that could put them on the map, like Cabernet in Bordeaux or Pinot Noir in Burgundy. They called in a French scientist to help them. He suggested crossing the seeds of Pinot Noir with Cinsault. This was not just a random choice. It was a well hidden secret that some Burgundian wineries often took little trips to the Rhone Valley when their Pinots were in need of a lift in color, body and flavor. For this, they looked to the well known blending varietal, Cinsault. The final product gets its name from Pinot Noir and the 'tage" from the Rhone's famous l'Hermitage. You put them together and you get Pinotage.

By the end of the night -- nearly three hours later, Derek and I were beyond ourselves at how much we really enjoyed this wine and Dick's stories. All the staff had left, the cave echoed our laughter and Dick was kind enough to take the time to sit for the afternoon with us over two bottles of wine. We might have gone on all night but the three labs, Finder, Magnus and Ling, had had enough of being ignored. And they let their master know that it was time for a walk - now. We went home with a new style of tasting, a new sense of history, and a purple smile.