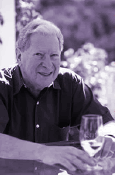 Tablas Creek has recently been hailed as one of "California Cult Winery Alternatives" by Wine Enthusiast Magazine. The 2000 Esprit de Beaucastel Rouge has been honored with a score of 93 points from critic Robert Parker. The winery, a partnership between Vineyard Brands Robert Haas and the Perrin Family, is the American offspring of the famed Château de Beaucastel in France. The very vines which produce the award-winning wines would, if vines could speak, tell a few stories of their long trip to America.

All this to accomplish the kind of wine that in Robert Haas' words makes the wine lover say, "Oh, yeah! Give me another glass!" The idea for Tablas Creek started in the 1960s. After getting a B.A. in History and Politics from Yale, Robert began working for his father's wine importing business. As the company's wine buyer, he began making frequent trips to France where he ignited his passion for French-style wines and began to build a wonderful friendship with Chateau de Beaucastel owners, The Perrin family.

In 1970, he started Vineyard Brands to import fine estate wines from Burgundy, Bordeaux, the Loire, the Rhône, and Alsace. The company also represented some well known and newly emerging California brands like Chappellet, Freemark Abbey, Clos de Val, Joseph Phelps, Rutherford Hill, Hanzell, Kistler, and Sonoma-Cutrer.

Finally in 1985, Robert, Francoise and Pierre Perrin began looking for land that would emulate the great Rhone region of France. They found the perfect PH balance and clay soil in a little known area called Paso Robles, California. Then came the warnings, "Everybody told us 'Don't go to Paso Robles!', but we were stubborn," said Robert. Then they looked around to see who else had the same idea about this land as they did, "There was Justin... gosh, maybe 8 wineries in total." Today there are 64.

Paso Robles is a coastal area located halfway between San Francisco and Los Angeles. It is nearly three times the size of Napa Valley and almost all of the vineyard land is no farther than 25 miles from the Pacific Ocean Coast. Like Napa, weather can be hot during the day and drop dramatically by 30-50 degrees at night. Ideal for wine grapes? You bet! Ideal terroir for Rhone grapes in particular - Yes! This is something that Robert and the Perrins knew upon arrival.

The next step would be what vines to plant. After many trials, Robert and the Perrins again looked to France to provide them with not only the inspiration for Tablas Creek, but also the raw materials. They didn't want to skimp on the most important aspect of winemaking, the grapes, by planting what they considered inferior vines for the kinds of wines they had in mind. So, they had to go about it the hard way.

Over the period of ten years, from 1990 to 1999, they imported 12 vine cuttings of each clone of each variety from the Chateau de Beaucastel in France. The initial imported cuttings underwent the careful scrutiny of the USDA to see if they were susceptible to potentially harmful viruses. After the vines arrived in America, they had to wait and wait and wait.

Tablas Creek finally debuted its first vintage in 1997, and it has been a love affair with wine critics ever since.

Robert wanted to share his views on his hard-earned wine with you, "The Rouge is California in its fruit forwardness. The grapes are ripe. The wines are quite big, not over the top, but without a lot of new oak... California wine with a French education." I would add that Tablas Creek is made with an authenticity that can only come from someone who could be described as a "perfectionist", but should more accurately be described as a genuine wine enthusiast whose own ideas about what a wine should be truly yield to terroir for the ultimate expression of what the wine is.

The Tablas Creek estate has 80 acres of vineyards, divided between red and white varietals. The reds are Counoise, Grenache, Mourvèdre and Syrah. The whites are Grenache Blanc, Marsanne, Roussanne and Viognier. The Tablas Creek estate also includes a vine nursery and according to the folks at Tablas Creek winery, "Other growers in Paso Robles evidently share Robert's opinion on the French clones, because Tablas had to start a nursery to satisfy demand. Neil Collins winemaker adds, "We never intended to have a nursery business, but the phone was ringing off the hook."

Robert and the Perrins have a full tasting room if you ever get a chance to visit their winery in Paso Robles, or as they affectionately refer to it, "Paso". If you do think you can make it their way, you will enjoy some of the best wine the region has to offer amongst a beautiful setting. Don't forget to bring your boots because you will probably be invited out into the dirt for a look at the organically grown vines and a peek into the now famous nursery.