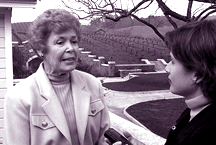 Carneros is a region of the Napa Valley that is off the beaten path. It certainly is not as heavily trafficked as 29 or Silverado trail and wine tasters may never even take notice of this Napa/Sonoma shared AVA while visiting. But Carneros' reputation for cool weather Pinot and Chardonnay, and long hanging fruit put this AVA on the winemaking map. It took two pioneering Texans, a couple named Jo Ann and Tony Truchard, who were looking for a decent price for land to help this AVA realize its wine-growing potential. Tony and Jo Ann grew up in small towns in south central Texas and Tony gained his love of the land by working on his family's cattle ranch. The interesting twist is that this land was only a cattle ranch by accident. Tony's grandfather, a French national, meant to have his very own vineyard on the land, but south central Texas was simply too hot for wine grapes and his dream died.

Tony carried this memory from childhood and it developed into a strong desire of his own after he and Jo Ann started learning and tasting more wine. When wine became a great, shared passion, it was time to plant a vineyard. "We got into the wine business through the vineyard business. We started growing grapes in 1974. At that time Tony was a physician in the military on a 2 year assignment and he wanted to plant a vineyard." Jo Ann explained. However, when they went to seek out land and found Napa Valley was going for $4000-$5000 per acre they were shocked and dismayed."We were used to Texas prices – $400/acre!" explained Jo Ann. (As a perspective-gaining aside that same $4000 acre in Napa Valley in 1974 is now approximately $100,000 an acre!) The Truchard's realtor turned them on to Carneros, the southern, undeveloped part of the Napa Valley.

After their purchase was in escrow, they consulted an expert who informed them their land would be useless for vines. He said, "There is no ground water - you will not be able to water your vines here." What the expert didn't consider was that the soil turned into a heavy clay in the rain and that if you dug a pond, the rain water would keep much like a giant clay pot. Bingo. Jo Ann and Tony installed drip irrigation and the Carneros hills could now get water. In a very astute move, they continued to buy neighboring properties and installing drip irrigation. The Truchards beat the odds, Carneros was quickly becoming very valuable land, and they had their own vineyard. They currently own 200+ acres of vineyards. Most of their grapes are sold to other wineries and they keep a very small portion for themselves.

In 1989, they decided it would be fun to have their own wine. They tried their hand at winemaking by using a custom crush facility. By 1990, they transformed an old barn on their property into a winery and officially bonded that year. The poetic coincidence is that the old barn on property was almost an exact replica of the one Tony grew up with on his grandfather's ranch, " the logo on the label is the original barn which looks like the original barn in Texas! We didn't build either one. It is our good luck symbol."

Their first release was four wines: Cabernet, Chardonnay, Pinot Noir and Merlot. At that time, Jo Ann and Tony were considering what to name this new winery, "Originally, because of our French name Truchard, we were going to call it Chateau Truchard and that is what we actually filed our application under but then we thought "Chateau" is just a little too assuming for a barn. We think Truchard is a beautiful name by itself," she said laughing.

In fact, there are very few California wineries that use French-influenced naming conventions and in the case of Truchard, it speaks to the style of the wine as well, as Jo Ann explains, "we want our wine to be very approachable. When we release them, they are ready to drink. You don't have to cellar. Not to say they won't get better with age – they can. We want a very balanced wine from start to finish and we think we achieved that. We have an excellent winemaker in Sal Dioni."

Today, Jo Ann, Tony, Sal, and Linda run all winery operations with some help from their six children. They have built a winery where Jo Ann stresses "at Truchard everyone is family". That is exactly what it feels like being there as a guest. Visitors not only get to taste wine, but also get a personal tour of the caves, vineyards (if the weather permits) and the winery. It is important to Jo Ann to offer visitors a real appreciation of the process of winemaking, "We try to give people a really unique tour to give them a feel of wine starting from scratch. When you open a bottle of wine it didn't just start like coca cola." That is so true. In the case of the Truchard family, it started with roots in France, vineyards planted on land that was thought impossible and results in unique wine which offers a wonderful expression of land and family in a bottle.